Top Landings
| Pilot | Avg Landing |
| --- | --- |
| Jim Levain | -106.95 ft/min |
| Pam Bennett | -110.91 ft/min |
| Chandler Heath | -110.91 ft/min |
| Bryan Borst | -114.00 ft/min |
| Gregory Knuth | -159.40 ft/min |
| Devin Caliri | -167.36 ft/min |
| William Temple | -179.57 ft/min |
| Paul McCurry | -195.43 ft/min |
| Jeremy Schwartz | -238.40 ft/min |
| Chris Robison | -238.88 ft/min |
| David Kurth | -254.29 ft/min |
| David Henderson | -258.35 ft/min |
| Daniel Boies | -259.00 ft/min |
| Mark Toler | -276.63 ft/min |
| Brian Akers | -286.00 ft/min |
| Chris Schiessl | -295.43 ft/min |
| Thomas Mauger | -299.81 ft/min |
| Ian Place | -319.71 ft/min |
| Ronald Real | -321.29 ft/min |
| David Downey | -335.02 ft/min |
| Jesus Sanchez | -349.05 ft/min |
| James Bishop | -359.41 ft/min |
| Robbie Suwary | -490.13 ft/min |
| Ingo Nickmann | -626.73 ft/min |
Most Flights
| Pilot | Flights |
| --- | --- |
| Mark Toler | 3016 |
| Robbie Suwary | 2381 |
| Devin Caliri | 1426 |
Most Hours
| Pilot | Hours |
| --- | --- |
| Robbie Suwary | 10119.2 |
| Mark Toler | 6149.41 |
| Devin Caliri | 4268.4 |
January Stats
Most Flights Flown:
| Pilot | Flights |
| --- | --- |
| Robbie Suwary | 22 |
| Devin Caliri | 21 |
| Jeremy Schwartz | 5 |
Most Hours Flown:
| Pilot | Hours |
| --- | --- |
| Devin Caliri | 94 |
| Robbie Suwary | 66 |
| Ian Place | 19 |
Most Miles Flown:
| Pilot | Miles |
| --- | --- |
| Devin Caliri | 39246 |
| Robbie Suwary | 25870 |
| Ian Place | 8371 |
See All The Stats
Event Calendar
Forum News
Virtual Northwest Airlines is dedicated to providing a unique environment for the advancement of the virtual aviation experience.

Through our mutual efforts, vNWA partners, pilots and staff continually work to ensure that all of our members feel as part of a family of like-minded enthusiasts who work together to simulate the operations of Northwest Airlines as closely as possible by utilizing the same fleet, routes, and hub structure of the airline before it merged.

In doing this, vNWA staff endevour to provide our pilots with all the tools needed to make their experience as enjoyable and realistic as possible.

James Bishop, vNWA CEO

---
vNWA VATSIM Activity
| Call Sign | Name | Aircraft | Departure | Arrival |
| --- | --- | --- | --- | --- |
---
smartCARS Live Flights
---
Hershey Valley Fly-In
Posted by Chris Schiessl on 01/24/2021
In the ZNY Regions event, we highlight areas of the New York ARTCC that are less-traveled and seldom-covered by the VATSIM community. This time around, we will feature the Harrisburg TRACON and immediate region. This facility is one of the larger ones in ZNY geographically-speaking, so there is ample opportunity to remain within one controller's coverage for longer if you choose your routes correctly, making the ATC frequency a bit busy and more interesting. The airspace roughly 10-20 miles around MDT & CXY is a TRSA (Terminal Radar Service Area) which is almost like a class charlie without the regulatory requirements (highly suggested to call the TRACON controllers for services since it is higher-density traffic). Of course, the airports themselves are class Deltas so those require two-way comms with controller. Check the sectional charts for airspace dimensions.

We would like to encourage you (the traffic) to fly in from varying directions and converge on some of our towered fields in the MDT area. And if you are feeling fancy with nothing else on your schedule, why not head back out again for another short hop within? Washington D.C, Pittsburgh, and NYC areas offer nice little hops in regional jets. The choice is yours.

Towered fields to aim for:
 
KMDT - Harrisburg International
KCXY - Capital City Airport
KLNS - Lancaster Airport
KMUI - Muir Army Airfield

Non-Towered fields to discover:

KTHV - York Airport
KZER - Schuylkill County Airport
KSEG - Penn Valley Airport
N68 - Franklin County Regional Airport
N71 - Donegal Springs Airpark
N79 - Northumberland County Airport
N94 - Carlisle Airport
---
Tracon Tuesday
Posted by Chris Schiessl on 01/24/2021
ZSE Having More Tracons open then just Portland and Seattle? Yep! You read that right! On January 26th from 1600-2000 PST (2359-0400Z) ZSE Will be staffing as many Tracons and we possibly can in our airspace! Come fly out of all the Airports like KEUG,KLMT,KGEG AND so many More! Hop into your favorite Aircraft and have some fun!
---
Macon My Way Downtown
Posted by Chris Schiessl on 01/24/2021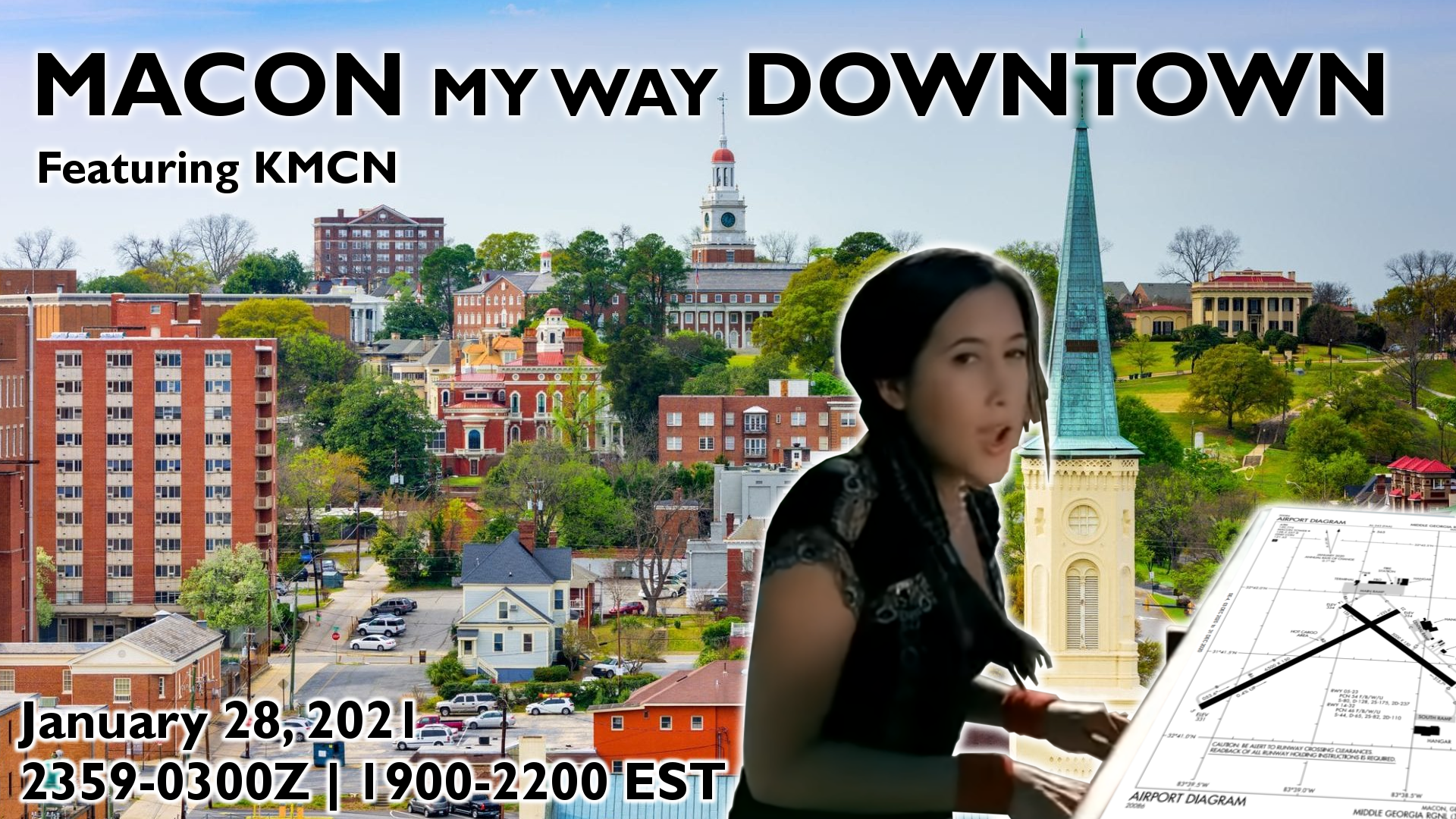 Hi. We'd like more funding for the year, we spent all of our money producing this. Thanks.

Please fly in, out, or about the Macon Airport (KMCN) on January 28th, 2021, as we staff it from 2359Z to 0300Z.
---
Escape the cold with ZAB
Posted by Chris Schiessl on 01/24/2021
Time to take off that heavy winter clothing and throw on a pair of shorts an t-shirt!

Come fly into Phoenix or Albuquerque to escape the cold of your week in Minneapolis.

We will be staffed from 2300z to 0300z
---
"RBUKL" Your Seatbelts to Okla
Posted by Chris Schiessl on 01/24/2021
Come fly to your favorite Oklahoma airport on January 30th, 2021. Make sure that you buckle up for your climb and RBUKL your seatbelts for the descent!

So here's a question.. what is your favorite Oklahoma airport, and why KOKC, KPWA, KOUN, or KTIK?
---
Executive Flight Schedules
Posted by Mark Toler on 07/28/2020
vNWA EXECUTIVE FLIGHT SCHEDULES
For anyone that would like to fly along with vNWA Executives, there are now tentative published schedules of vNWA Executives individual scheduled flights.  These flights and times are tentative and subject to change.  Feel free to contact the Executive for specifics if needed by clicking on the link below (KSTP Hub Website) or visit the KSTP Hub Website from the Hubs Tab at the top of the Homepage of the Website, to see when your Executives may be flying and you can join them.
So check out the schedules and fly with us .
(click on above link)
(updated 10/26/20)
vNWA Executives
Mark Toler - NWA1964  (TBA) 
 Chris Schiessl - NWA1223 (TBA) 
Robbie Suwary - NWA1999 (TBA)
---
vNWA Hub Tour 2012-2019
Posted by James Bishop on 01/30/2020
 vNWA Hub Tour 2012-2020
 Get to know your fellow pilots, and their airspace. There is no specified time to complete this tour, have fun with it and see what you get upon completion.  Click the Operations tab at the top of the homepage and click on "Tours" to get started. 
Be sure to leave a comment indicating a leg of the Tour when filing your PIREP so we can credit you with each leg of the Tour.
 
---
vNWA NOTAM's
Hershey Valley Fly-I...
Posted: 01/24/2021
Tracon Tuesday...
Posted: 01/24/2021
Macon My Way Downtow...
Posted: 01/24/2021
Escape the cold with...
Posted: 01/24/2021
"RBUKL" Your Seatbel...
Posted: 01/24/2021
Random Screenshot

Submitted By James - NWA1847
On - 07/01/2012
Recent Reports
Newest Pilots
Users Online
There have been 0 user(s), and 20 guest(s) online in the past 20 minutes.
Discord Status
---