NASCAR Charters Event 3
Event #3 of the 2021 NASCAR Season
This week for Event 3 of the 2021 NASCAR Season we are still in Florida but further South in Miami. The charters will begin on Thursday February 25th and run through Sunday February 28th. We have routes out of all of our main hubs at MSP, DTW, MEM, PANC, EHAM, RJAA, and our NASCAR Hubs at CLT and KJQF into Miami Intl. Airport (KMIA).
Our route numbers are NWA7000 - NWA7037 and pilots can fly any route we have in our system into KMIA and get credit as well.
As always the top 3 pilots with the most flights will receive bonus hours as well as extra bonus hours for the pilot who has the best landing rate below -100 fpm.
So lets have a Great turn out for Event 3 like we did for Events 1 & 2 as we continue the 2021 NASCAR Charters Season.
Posted By: Mark Toler on 02/24/2021
---
Port Authority Pandemonium: SW
"Citation 5MW square your base to final, you're number 3 following an Archer turning a 5 mile final, additional traffic will depart prior to your arrival, wind 250 at 8, runway 27 cleared to land"

This is what happens when we staff Stewart for our Tower Thursday. Bring everything you got and expect minimum time on the runway cause we don't have many gates and you might get spun. Bada bing bada boom welcome to New Yawk!

As part of a semi-regular series known as Tower Tuesday/Thursday, we will staff a tower within ZNY every so often and ask you to jam it from all directions. Fly in IFR too, just to throw a wrench in the plans



Airport: KSWF
Date & Time: February 25th, 2021 from 6PM to 9PM Eastern (2300z - 0200z)

Scenery
Payware P3D: https://secure.simmarket.com/sierrasim-simulation-kswf-new-york-stewart-international-airport-p3d4.phtml

Posted By: Mark Toler on 02/24/2021
---
Storm the Bay FNO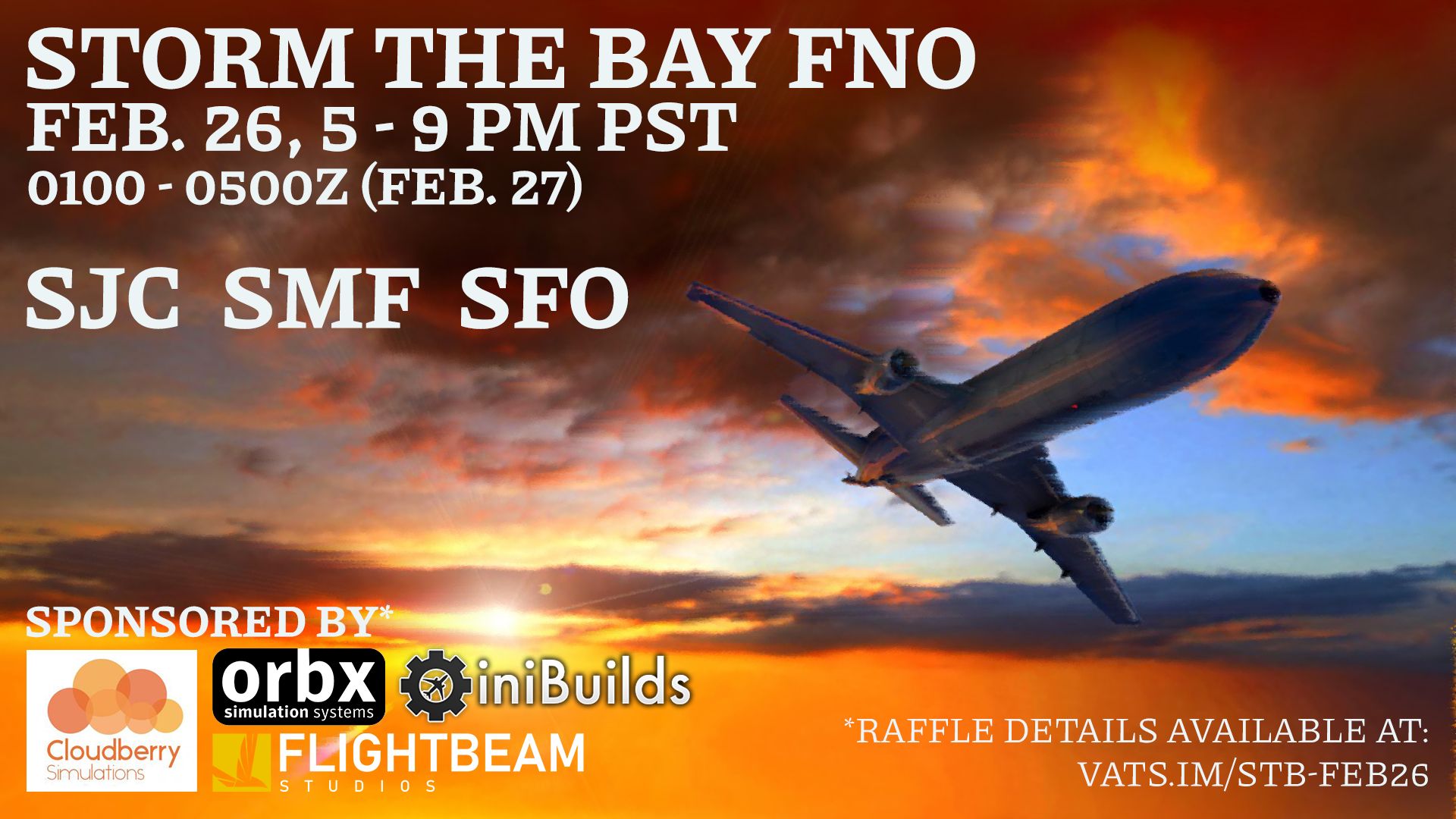 We know you like flying to SFO, so we're going to staff it. SFO sadly does not like when you fly to it. We'll give you a chance to win prizes if you fly into one of the other featured airports. You like free stuff, so don't fly to SFO!

We are raffling away 8 prizes, thanks to the generosity of a few of your favorite add-on developers!

3x Cloudberry Simulations Oakland International Airport (P3D)

3x Product of Choice from OrbxDirect (any sim)

1x iniSimulations A300-600R(F) On the Line (XP)

1x FlightBeam San Francisco International Airport (FSX/P3D)

To enter the raffle (one entry per person allowed), you must:

Complete the raffle entry form: https://forms.gle/4H9sH5gmtYvRAdau9 (before 0400z on event day)

Complete a qualifying flight arriving into SJC or SMF, landing between 0100z and 0530z on event day
Qualifying flights must meet the following criteria:

The flight must arrive at SJC or SMF, landing between 0100z and 0530z on event day

The flight must be greater than 100 nm in great circle distance

The flight can depart from any airport except for SFO

Full terms of the raffle are available here: https://docs.google.com/document/d/1_HE_r9syXc7KiJv3xKRDwNSy-9_xk4odyvbDr_KeKpw/

Airports: KSFO, KSJC, KSMF
Date & Time: February 26th, 2021, 5 - 9 PM PST
Date & Time (Zulu): February 27th, 2021, 0100-0500z
Posted By: Mark Toler on 02/24/2021
---
Cross the Gulf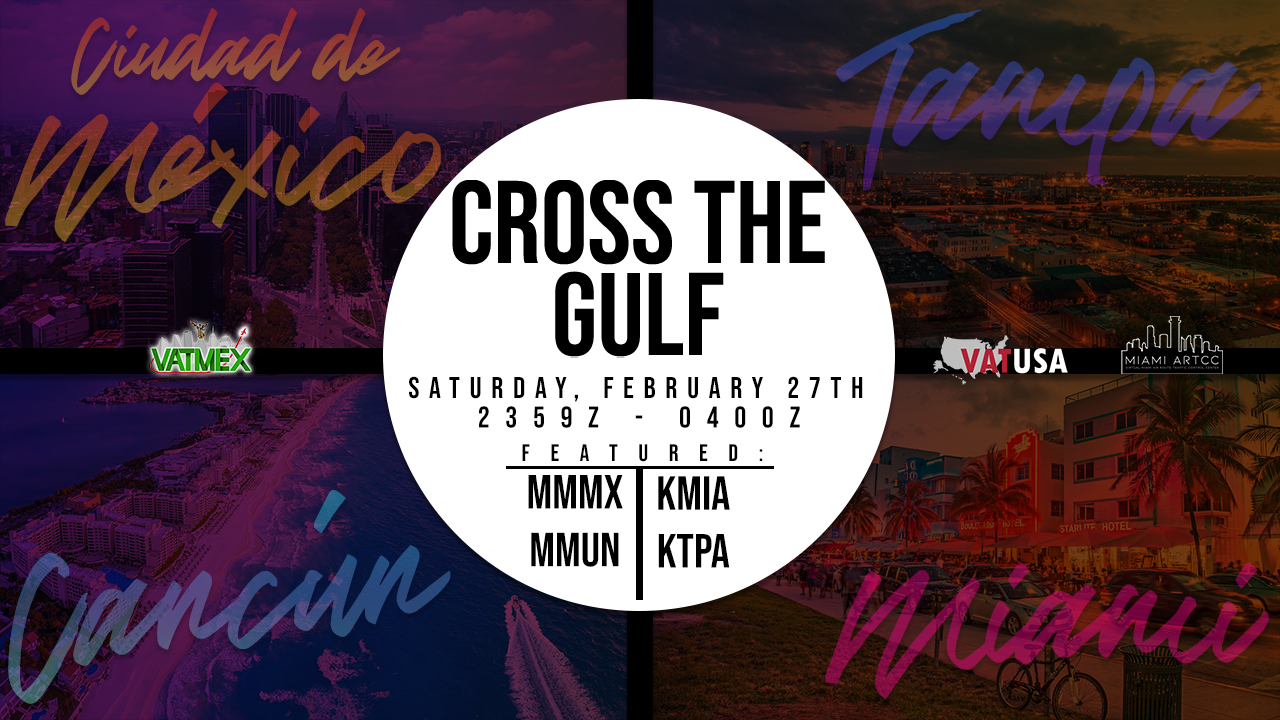 ZMA and VATMEX are happy to bring back Cross the Gulf! Fly eastbound or westbound as you wish between Mexico City (MMMX), Cancun (MMUN), Tampa (KTPA) and Miami (KMIA).

Departures set to start on Saturday, February 27th at 2359z
Posted By: Mark Toler on 02/24/2021
---
BVA Fly-In

This week's BVA event features a special twist on our normal GA Fly-In series. On February 28th we're celebrating two great Living History foundations in the New England area: The Collings Foundation and the New England Air Museum. The New England Air Museum is an aerospace museum located at Bradley Intl. (KBDL), and The Collings Foundation is a non-profit located in a small town just outside Worcester.

We encourage pilots to fly their favorite vintage or historical aircraft into KORH or KBDL from any of the surrounding staffed airports.
Posted By: Mark Toler on 02/24/2021
---
Executive Flight Schedules
vNWA EXECUTIVE FLIGHT SCHEDULES
For anyone that would like to fly along with vNWA Executives, there are now tentative published schedules of vNWA Executives individual scheduled flights. These flights and times are tentative and subject to change. Feel free to contact the Executive for specifics if needed by clicking on the link below (KSTP Hub Website) or visit the KSTP Hub Website from the Hubs Tab at the top of the Homepage of the Website, to see when your Executives may be flying and you can join them.
So check out the schedules and fly with us .
(click on above link)
(updated 02/24/21)
vNWA Executives
Mark Toler - NWA1964 (2/25/21)
Chris Schiessl - NWA1223 (TBA)
Robbie Suwary - NWA1999 (TBA)
Posted By: Mark Toler on 02/03/2021
---
vNWA Hub Tour 2012-2019
vNWA Hub Tour 2012-2020
Get to know your fellow pilots, and their airspace. There is no specified time to complete this tour, have fun with it and see what you get upon completion. Click the Operations tab at the top of the homepage and click on "Tours" to get started.
Be sure to leave a comment indicating a leg of the Tour when filing your PIREP so we can credit you with each leg of the Tour.

Posted By: James Bishop on 01/30/2020
---
PANC Cargo Operations
"ATTENTION vNWA PILOTS - PANC IS OPEN FOR PILOTS "
We are pleased that the Anchorage Hub is opened to staff Pilots for our Cargo Operations. If you would like to transfer from your current hub please send an email to virtualnorthwest@gmail.com . Be sure to tell you other Flight Sim VA pilot friends that enjoy flying Cargo to come join us at PANC.
Posted By: Mark Toler on 11/27/2019
---
Buffalo Hunt Tour
Join in as NWA pilots visit the Northwest Territory to hunt the elusive green Buffalo in its natural habitat. WWII Piston powered aircraft only, these aircraft will help you camouflage yourself and be inconspicuous while on the Buffalo's home turf.
Be sure to see all the routing details and sign up for this tour and others in our "Tours" section by clicking on the link below.
Posted By: Mark Toler on 11/27/2019
---
MAPLE LEAF TOUR
The "Maple Leaf Tour" is a Tour of Canada designed by a Canadian Native and vNWA Event Manager, NWA1999 Robbie Suwary. This tour will consist of 14 Legs to airports that you may be familiar with and of course some that you have never heard of or flown to.

This tour is now "Active" and Pilots can sign up on the "TOURS" page under the "Operations" Tab on the Homepage of the website.
Be sure to check the Forums under "vNWA Tours" for all Tour information and to make post of your flown legs of the Tour.
Good Luck and Enjoy The "MAPLE LEAF" Tour
Posted By: Mark Toler on 11/20/2017
---